NRI Investment Pattern in the Real Estate of India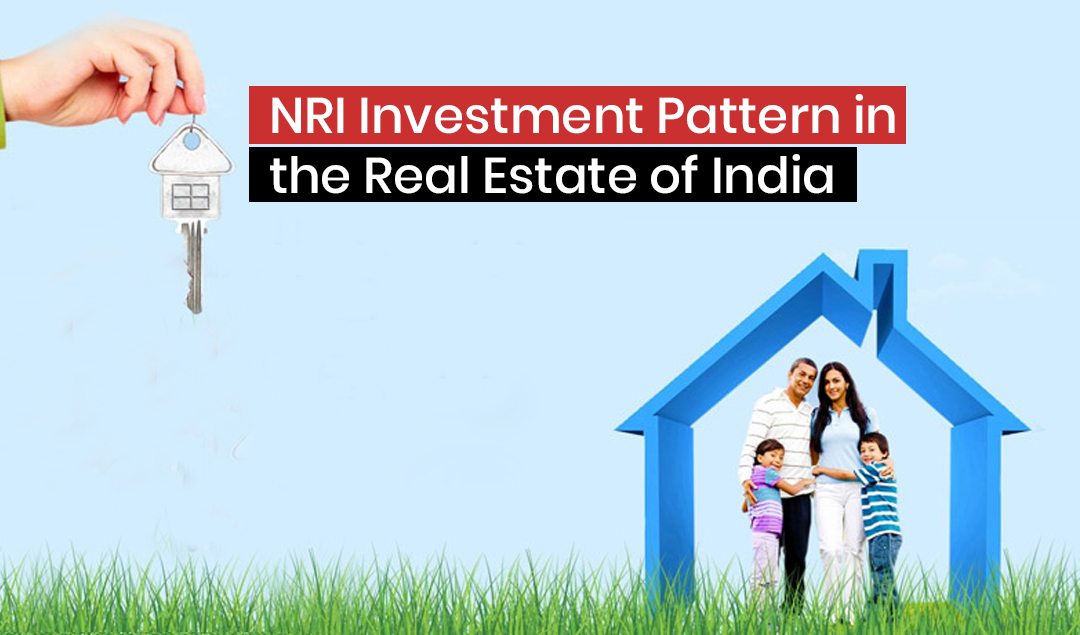 In recent years, Non-Resident Indians (NRIs) have played a significant role in shaping India's real estate landscape. NRI investment pattern in the Real Estate of India sector has witnessed considerable growth and has become a crucial driver of the industry's development.
This article explores and analyzes the trends, motivations, and impact of NRI investments in Indian real estate.
Table of Contents
Introduction
The Indian real estate sector has witnessed a surge in NRI investments over the years. Those who reside abroad are called NRIs. The favorable economic climate, evolving regulatory reforms, and growing demand for real estate have attracted NRIs to invest in India properties.
Indian Real Estate Attracts NRIs
The NRI investment pattern in the real estate market in India is driven by several factors. Firstly, India's economic stability and consistent growth provide a conducive environment for real estate investments.
The country's strong GDP growth, infrastructure development, and urbanization contribute to property value appreciation, making it an attractive investment option.
Secondly, the Indian government has introduced various policies and initiatives to encourage NRI investment.
Relaxation of Foreign Direct Investment (FDI) norms, simplification of repatriation procedures, and granting of additional benefits to NRIs have enhanced the investment climate.
These measures have instilled confidence in NRIs and made them more willing to invest in Indian real estate.
Thirdly, India's real estate prices are relatively competitive. NRIs find value in the affordable yet promising property market. Additionally, the emotional and cultural connection to their homeland motivates NRIs to invest in real estate in India. This is either for personal use or as a long-term investment for future generations.
Lastly, diversification of investment portfolios is crucial for NRIs. Real estate investments offer stability, a hedge against inflation, and a tangible asset that generates regular income through rentals or capital appreciation. NRIs often allocate a portion of their investment portfolio to real estate to diversify and mitigate risks.
Factors Influencing NRI Investment Pattern
Several factors influence NRI investment patterns in the Indian real estate sector:
Economic stability and growth
India's robust economic growth, backed by various reforms and initiatives, instills confidence in NRIs. Stable economic conditions, low inflation rates, and a growing middle class contribute to real estate demand.
Favorable government policies
The Indian government has undertaken numerous policy reforms to attract NRI investment. Initiatives such as the Real Estate Regulatory Authority (RERA), Goods and
GST (GST), and the Pradhan Mantri Awas Yojana (PMAY) have streamlined the real estate sector and made it more transparent and investor-friendly.
Real estate prices that are competitive
Compared to developed countries, property prices in India are relatively affordable. NRIs often see this as an opportunity to invest in properties that offer better value for money and higher appreciation potential.
Cultural and Emotional Connect
Many NRIs maintain a strong emotional and cultural bond with India. Investing in real estate allows them to reconnect with their roots and provides a sense of security and attachment to their homeland.
An investment portfolio that is diversified
NRIs, like any other investor, prioritize diversification of their investment portfolio to reduce risks. Real estate investments offer stability, long-term growth potential, and a tangible asset class that complements other financial instruments.
Popular Cities for NRI Investments
Certain cities in India have emerged as preferred destinations for NRI real estate investments. These cities offer economic growth, infrastructure development, and attractive property prices. Some of the popular cities include:
Hyderabad
Hyderabad, the financial capital of India, has always been a hotspot for real estate investments. It offers a diverse range of properties, from luxurious apartments to commercial spaces, attracting NRIs looking for high-end investments.
Bengaluru
Bengaluru, also known as the Silicon Valley of India, has witnessed rapid IT sector growth, making it an attractive destination for NRIs. The city's cosmopolitan culture, excellent infrastructure, and availability of world-class amenities have contributed to its popularity among NRI investors.
Delhi/NCR
Delhi and the National Capital Region (NCR) encompass several satellite cities, including Gurugram and Noida. The region offers a mix of residential, commercial, and industrial properties, catering to the diverse investment preferences of NRIs.
Pune
Pune has emerged as a major hub for education and IT, attracting many NRIs. The city's relatively affordable real estate prices, robust rental market, and pleasant climate make it an appealing investment destination.
Chennai
Chennai, the capital of Tamil Nadu, has a thriving industrial sector and strong IT and automobile industries. NRIs find the city attractive due to its cultural heritage, affordable property prices, and high returns.
Types of NRI Real Estate Investments
It is possible for NRIs to invest in Indian real estate in a variety of ways. Investment types include:
Residential properties
Investing in residential properties, such as apartments, villas, or townhouses, is popular among NRIs. These properties offer capital appreciation and rental income, making them attractive long-term investments.
Commercial Properties
NRIs also invest in commercial properties like office spaces, retail outlets, or warehouses. These properties generate rental income and provide stable returns, especially in prime locations with high demand.
Plots of land.
NRIs can invest in land. They can purchase land plots for future development or hold them for appreciation.
Real estate funds
Some NRIs prefer investing in real estate funds or Real Estate Investment Trusts (REITs). These investment vehicles allow individuals to participate in large-scale real estate projects and benefit from professional management.
Challenges faced by NRIs in Real Estate Investments
While NRI investments have grown significantly, NRIs may face certain challenges during the investment process:
Framework for Legal and Regulatory Compliance
Navigating the legal and regulatory framework of real estate transactions in India can be complex for NRIs. Understanding the Foreign Exchange Management Act (FEMA), property laws, and tax implications requires careful research and professional guidance.
Property Management
Managing properties from a distance can be challenging for NRIs. Finding trustworthy property managers, ensuring regular maintenance, and handling rental agreements can pose difficulties if not managed effectively.
Market Volatility and Currency Fluctuations
Real estate markets fluctuate and fluctuate. NRIs need to stay updated with market trends, currency exchange rates, and geopolitical factors that may impact their investments.
Distance and communication
Physical distance and time zone differences make communication and coordination challenging for NRIs. Engaging with builders, developers, and property agents can sometimes be cumbersome due to logistical barriers.
Future Outlook and Trends
NRI investment in Indian real estate is expected to continue. With the government's focus on infrastructure development, affordable housing, and ease of doing business, the sector offers lucrative opportunities for NRIs.
The rise of smart cities, sustainable development, and technology integration in the real estate sector is expected to shape NRI investment trends.
Conclusion
NRI investments have significantly impacted the Indian real estate sector, contributing to its growth and development.
NRIs are investing in Indian properties because of favorable economic conditions, government initiatives, competitive property prices, and a strong emotional connection. However, navigating the legal framework, managing properties remotely, and staying informed about market trends remain challenges.
As the real estate sector evolves, NRIs must stay updated and seek professional guidance to make informed investment decisions.
In this Article, we learned about NRI investment pattern in the Real Estate of India.

FAQ's
Q1. Are NRIs allowed to invest in Indian real estate?
A. Yes, NRIs are allowed to invest in Indian real estate as per the regulations set by the Reserve Bank of India (RBI).
Q2. Can NRIs avail home loans for purchasing property in India? 
A. Yes, several banks and financial institutions offer home loans to NRIs for purchasing property in India, subject to certain conditions and eligibility criteria.
Q3. What is the tax implication for NRIs on real estate investments in India?
A. NRIs are required to pay taxes on rental income generated from their Indian properties. The tax rates and provisions may vary based on the individual's residential status and the Double Taxation Avoidance Agreements (DTAA) between India and the country of residence.
Q4.Can NRIs repatriate the proceeds from the sale of property in India? 
A. Yes, NRIs are allowed to repatriate the proceeds from the sale of property in India, subject to certain conditions and limits set by the RBI.
Q5. How can NRIs manage their properties in India effectively?
A. NRIs can engage professional property management services to handle the day-to-day management of their properties, including tenant management, maintenance, and rent collection.